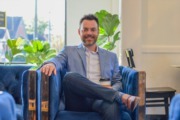 Dale Conner is a real estate professional who currently operates as a buyer and seller representative. He's determined to seek and provide the best possible buying, selling, and investing opportunities for his clientele through careful attention to detail and effective communication with all parties involved. 
Dale is a family man, who possesses an exceptional understanding of how integral it is for families to find homes that best suit them. At the same time, he helps educate them about the benefits of investing in real estate as a means for saving for the future. His genuine care for the clients he interacts with is evident in his thoroughness of understanding the nuances of each case. Only through that effort, he believes he can offer an honest and noteworthy proposal to each of his clients. Moreover, his interest in interior design also allows him to showcase the full potential of any property during a showing. 
Dale's diligence to his clients is fueled by his appreciation for this industry and his role within it. He aims to continue being a real estate professional for the entirety of his professional life because it enables him to make people's dreams of a beautiful home a possibility. His efforts also certainly haven't been in vain, as he has managed to secure several deals that clients have been happy with for years. 
As important as his professional life is to him, Dale Conner has also been active in improving his community by partaking in social work. Some events and organizations include the Supporter of Habitat for Humanity and the Palmer Home for Children. Dale is also a devout Christian and allows his faith to help him provide the best opportunities for others. 
As a loving husband and father, his work also helps him provide for his family. When not at work, he loves spending quality time with them, including visiting various beach destinations for a day out.